The Chandeswori residence is a small house, located in the village of Tupche, which houses 12 blind or partially sighted children. This house was in charge of the Chandeswori school, hence the name, which receives government aid to support the children. The conditions in which they lived were quite precarious, they were dirty, without hygiene routines and the spaces were not adequate.
Petit Món was in charge of improving conditions, rebuilding the house with volunteer architects, designing it especially for the needs of children and to optimize natural resources. The result was incredible, the house, which was reopened in August, is beautiful and perfectly adapted for the needs of children.
Montse proposed us to go there to do a workshop and basically give them a little attention, since the town is in the middle of nowhere, at the foot of the mountains! In their day to day these children do not receive too many stimuli for their development, so with the workshop and games we could stimulate them a bit.v
The children are adorable, at first they behaved in a shy, distant way, but as we got closer and knew everything was easier. Above all we fell in love with a person … Sukuman !!!
A blind 4 year old boy, well, you can see leftovers, he was the happiest person in the world, you gave him a little bit and with that you could spend hours. Playing with him was a blast, and he went to take any small show of affection … he left us really touched … you should see him eating his Dal Bat (rice with a soup of lentils and potato) with his hand (like it is eaten in Nepal) enjoying as never before, with the look in front and removing the head of joy and pleasure.
How little Sukuman needs to be happy … I used to tell him that he was a superhero, and that way we had a good time, clapping our hands and repeating his name …
His brother, Aitaman, also blind, is very shy, almost does not speak, although he is always with the group. All the children there help each other a lot, they are a pineapple inside and outside the house … they are really a love.
Aitaman and Sukuman sleep together at night … they are very cute … We also have Savin, Vinayak, Santosh, Inosh and Ramsaran, who are older.
The first three with partial vision and the last two with total blindness. Santosh and Vinayak love to dance, they throw themselves all day with a loudspeaker dancing Nepalese music, they are very funny …
Savin likes to pound any instrument he finds, especially the guitar that is in the house, and the other two are more timid. Inosh had a harder time accepting us and Ramsaran is reserved but it was very close.
The girls are beautiful! There is Sharmila and Iswori, with total blindness, and Ashmita who sees through an eye. The three are the joy of the garden, Sharmila loves to sing, and she does it very well, so we did not stop asking her to sing us songs.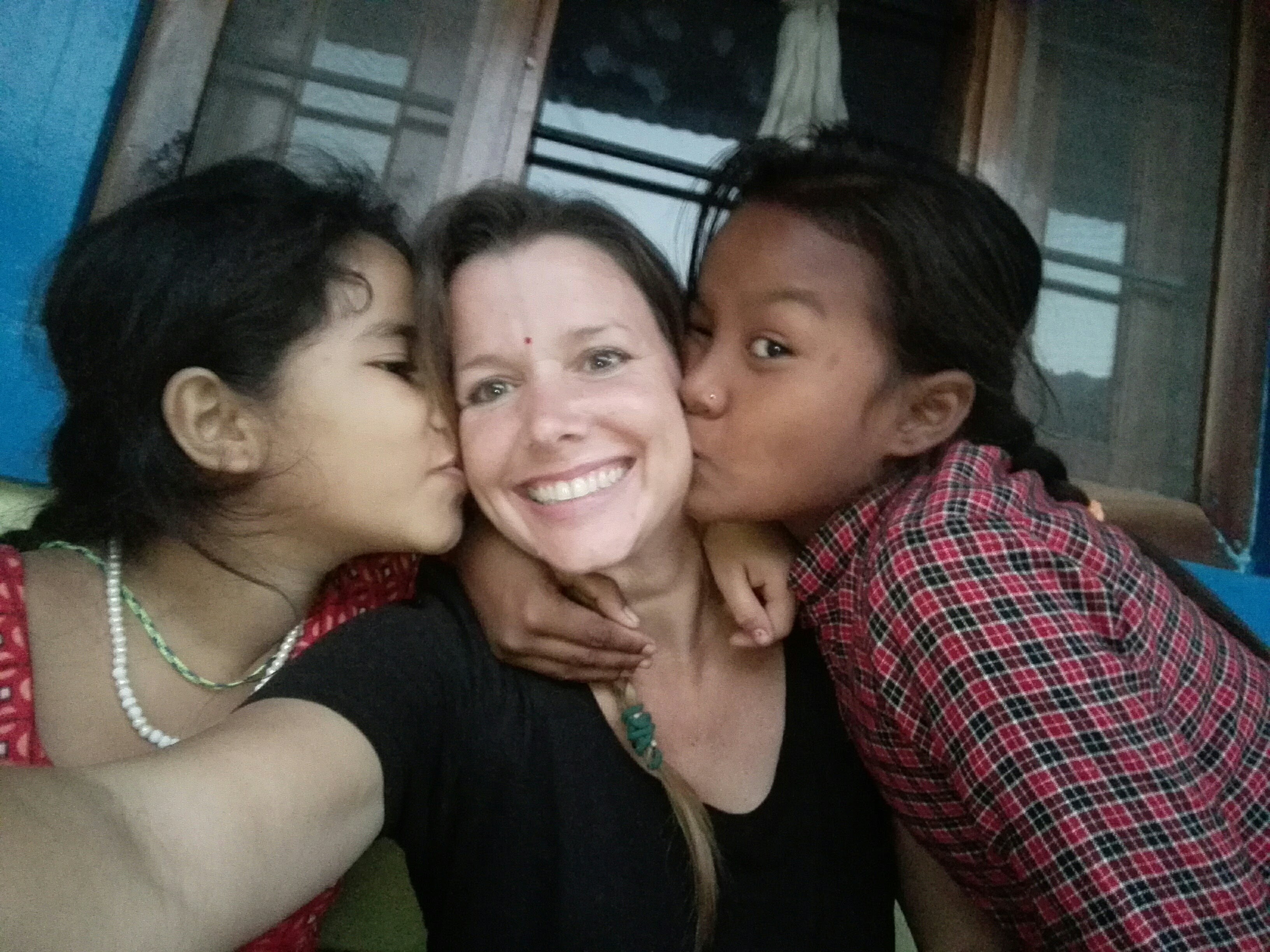 There was also Sarita, the smallest, with the most temperament, and although she did not like the physical contact, she did not stop looking for us, but when she wanted to … There's another child in the house that we did not see, Surendra, because she had to Go to your house for a while.
We had never worked with children with visual disabilities, but it was not difficult to make games with them, above all, of course, games in which they would dance!
In the afternoon, after school, they arrived home and we prepared to do the workshop. We started with exercises that we normally do but with modifications, which worked very well, with the same result as always. The most timid, Aitaman and Inosh at first were very embarrassed, even Aitaman went to sit at a secluded bench. Until we asked after a while and agreed to join …
Then we made the game of the statues, they had to dance and when the music stopped they made a statue … they loved it and showed an imagination that was increasing as they were challenging each other. Then we played the hot potato … and so on until it got dark.
You would have to see Aitaman after rejoining, giving him a little more attention, how excited he was dancing, holding hands and the rhythm of the music smiling as we had not seen so far … and the rush that occurred with the hot potato leaves that did not touch him … that bonico was!
At night we continued the party in the room, dancing with Nepalese music, especially Santosh and Vinayak, giving everything, showing their best moves, even doing improvised choreography … very funny … Sukuman was throwing himself on us to do some game, Savin pounded the guitar and the rest around stretched out on the bed and commenting on the play.
The next day we accompanied them to the school, there we talked with the teachers to know when we could do the performance that we explain in the next publication.
In the afternoon we took out some games that Petit Món had bought for them. They were super excited !!! They lacked skills but were surprised by everything they could do. It looked like they could not solve the most basic problems to challenge themselves with more difficult ones. You would have to see the greatest solving puzzles, Sukuman and Sarita on a carpet playing with shapes … It was as if they discovered how to be children … They were beautiful …
And finally we ran out of time, we had to go to Lamagaun for another collaboration. So we told the children, Aitaman burst into tears, Inosh got angry and went to a corner. And the rest, hiding their long faces, dismissed us with grief. It cost us horrors to go … these children had given us a lot of love … but we had to continue … Goodbye friends …
We will be back. If someone would like to volunteer, this would be a perfect place !!!! You would be great and you would make 12 beautiful children happy, ask and we will pass you the contact, they deserve it!